Name: Scrapped Princess (78.75% in 8 votes)
Type: ANIME
Platform: Video
Company: Unknown
Release date: 1990
Reviewed by: Bata-kun

"Scrapped Princess" or "Sutepri" as many people call it (derived from "suteru", the Japanese word for "scrap" or "to throw away") is a series by Sakaki Ichirou-sensei that came out earlier this spring. Pacifica Kasull is a princess who is said that disaster would strike the moment she turned sixteen and time is running out for her and her adopted siblings, Shannon, a bold swordsman and Raquelle, a magic user, who are trying to protect her. Along the way, they meet various people. So, is there another way around of this fated event?

Fun - 10

No matter who the character is, I pretty much have connected to all of them, especially the troubled ones. I can feel what they're experiencing. Shannon and Raquelle have done a marvelous job in trying their best to protect Pacifica. I have been loving each and every episode, even though there were a few slow moments.

Life - 10

Don't watch this once. Don't watch this twice. Watch this as many times as you can.

Story - 10

"A princess who is supposed to be sacrificed to prevent disaster?" That's a wonderful story if you ask me. Next.

Audio - 10

Each character has a seiyuu that matches real well and I couldn't find anyone better. If you have seen a few series in the last three years or so, you should have noticed that Pacifica is played by Orikasa Fumiko-san and she really does a good job here. So, major kudos to them all.

As for the music, ho ho ho! You're in for a treat. The opening is done by Jam Project and Okui Masami-san. The ending is done by Oranges & Lemons. Those artists are definitely some of the hottest ones out there right now.

Art - 10

This is probably one of the best, if not, the best animated series I've seen out of Bones. The character designs are magical and the places are a marvel to look at. I mean, what else is there to say?

Overall - 10

"Scrapped Princess" has become an instant classic to many anime fans. There is no doubt that this is one of my all-time favorite anime series. Time will tell if it'll be my series of 2003. If you have not done so, experience this fantasy adventure yourself.

+

The connectable characters, the music and voice actors, the drive, how can this not be a finalist of being my series of 2003?

-

Aside from a few slow moments, there's not much else to complain about.
[ Demo Music ]

N/A

[ Screen Shots ]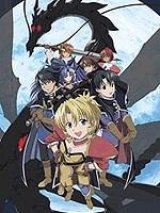 [ Voting ]