Name: Houkago Renai Club (74.29% in 28 votes)
Type: ADV
Platform: WINDOWS
Company: Libido
Release date: 1997
Reviewed by: Joshua

Overview:
Houkago Renai Club by Libido is your standard "Doukyusei" type game, except with a much simpler interface. The game has terrific artwork and overall, is an enjoyable "love affair" game with plenty of hentai. There is also an OAV of this game as well. Libido is also knownn for games such as Libido 7( a remake is coming out soon called "Girlfriends"), Rythum, Houkago Mania Club and Fifteen. All which are very well done.

Story: 70%
Basically, you are a part of "love affair" (Renai) Club, and you can pursue 12 different characters, all whom have very different personalities, and one of whom you will try to capture their heart. The story is very lighthearted, yet very basic.

H Content: 95%
Well, there are several H-scenes for all of the girls and they are very well drawn. If you are looking for Hentai, there is a pretty moderate amount of it, yet it takes some time to achieve them though. Overall, very well done.

Graphics: 95%
The graphics and artwork to this game are simply excellent. I enjoy the style of Libido, the character design of the girls is beautifully done and overall, the game is very well drawn.

Gameplay: 75%
The interface to the game is fairly simple. You choose which girl you want to talk to in the club, you then choose a topic, answer questions and then you have three options: you either can move on to another girl, ask her if you can walk her home or ask her on a date. The game involves some simulation, as you must choose the correct topics and answer the questions correctly, if you are to ask her on a date and eventually win her heart. Overall, it would not hurt to know some Japanese to play the game or, on the internet, there are several easy guides to the game that one can find to easily finish the game.

Sound: 70%
All of the music is in wave format and is very upbeat and somewhat jazzy. The music is pretty good, but can be a bit repetitive. There is also a very nice theme song to the game as well. Unfortunately, there are no voices to the girls in the game.

Extras: 50%
After you finish the game with any of the girls, there is an album where you can view of the CG, but that is all.

Rating: 79%
What can I say, Libido is another great company and all of their games feature beautiful artwork.
[ Demo Music ]

N/A

[ Screen Shots ]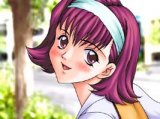 [ Voting ]