Name: Dangerous Toys (64.29% in 7 votes)
Type: FUN
Platform: WINDOWS
Company: Love-Gun
Release date: 1997
Reviewed by: Deester

Overview:
Not much of a game . You just choose a girl and watch her having fun with some "toys".

Story:
There is no story...

H-degree:
Well there is a fair amount of h in this game (to be honest h-pics are all this game is). You get to choose from 10 girls to watch "play" with 5 pics in each option, a sum of 50 pics... The graphics are very nice, the girls beautiful...

Graphics:
The only graphics in this game are the h-pics and the intro screen...

Sound:
There are 10 songs each playing for each different girl. The music is nice but don't expect nothing much. Reminds me of typical arcade game sound...

Game Play:
Again there is no real gameplay since you just look at pics and read the text under each one. Well this is really easy though.

Extras:
There is a CG option (i don't understand why you need one though since the game is almost a CG itself) and a music room.

Total:
It's an almost worthless game since you don't need a whole game just to browse at some pics. Well maybe some people want to read what the girls say while playing...
[ Demo Music ]

N/A

[ Screen Shots ]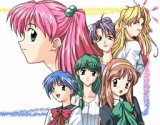 [ Voting ]