Name: Gakuen Sodom (School Sodom) (73.33% in 24 votes)
Type: ADV
Platform: WINDOWS
Company: PIL
Release date: 1996
Reviewed by: Helmut

In the game you are a college student (male) and practice a job of pupil teacher in a school of your sister MIKU. At the last practice day an incident happens. A rape-murderer has broken jail and come to your classroom, hold teachers (two ladies besides you) and students hostage.

The subtitle is translated as 'girl slaves in a classroom'. That says all. By the way the jailbreaker demands your help. How will you do? If you help him, you can enjoy yourself over the girls on the plea of his threat. On the other hand if you resist him and help girls, you'll get a happy ending. This game offers various endings.

GAMEPLAY: Mostly it's a usual ADV game but has a different element about decisions. When you decide on your answer or action, you must do before the time-limit ends, or you'll be regarded as silent. The level of the time-limit is various from easiest(12") to expert(4"). At any place you can save/load/quit. You can view CGs again in a title menu. The game offers simple hints in a title menu which let you know how to clear a game and get happy ending with each girl.

GRAPHICS: It uses 256 colors. Outlines and colors have been well painted. But girls' frown disturbed my amusement. To view all CGs in the game isn't easy but they've been made in bmp format.

MUSIC: It's in the CD. It offers sound effects also. They're not bad and some of them are thrilling.

I'm not fluent in English and Japanese, so please forgive and correct me if there's any error in this review.
[ Demo Music ]

N/A

[ Screen Shots ]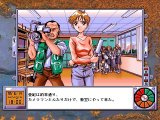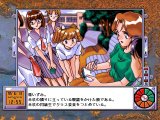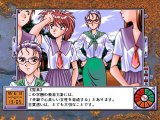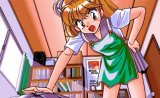 [ Voting ]