Name: Puzzle Bobble (80.00% in 3 votes)
Type: PUZ
Platform: SNES
Company: Taito
Release date: 1995
Reviewed by: Deester

Puzzle bobble is a puzzle game featuring the two cute little creatures from bubble bobble. The game has nothing to do with bubble bobble's gameplay this, though, does not make the game any less enjoyable ...

On your screen you face a formation of differently colored balls just above he two creatures and a compass-like pointer . The object of the game is to destroy this formation hitting each ball with one of the same color by turning the pointer to it's way .You thing that's all ? Nope. To make things a bit more difficult you have to connect at least 3 balls to make them dissapear .If you are slow the balls will soon come down until they touch you in which case you lose .

The graphics are nice but remember we are talking about a puzzle game ... Every ten levels the background changes with a new image. In my version there is no sound except some sound effects when each level starts , each time you fire a ball and when you destroy one. I don't know how many levels there are since i can't seem to finish this game...

If you like puzzle games or are a bubble bobble fan play this game... it's very fun...
[ Demo Music ]

N/A

[ Screen Shots ]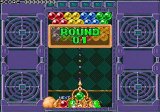 [ Voting ]